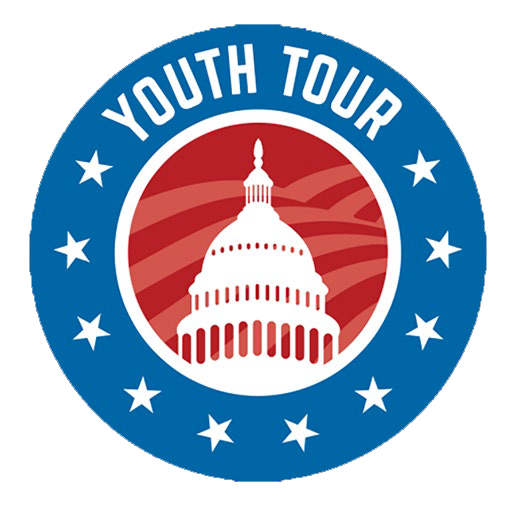 2023 Electric Cooperative Youth Tour Winners
Adelene Westfall of Nashville High School and daughter of Jeffery and Amy Westfall and Cameron Gordon of Genoa Central High School and granddaughter of Jimmy and Linda Gordon, were selected as winners of an essay-writing contest on the topic of the "Why it isn't Always Feasible to Replace Fossil Fuel Power Generation with Renewable Energy Power Generation."
 
The trip is all expense paid and will involve approximately 40 other youths from across Arkansas. From June 16 through June 22, the tour will visit the White House, the U.S. Capitol, Washington, Lincoln and Jefferson monuments; the Vietnam Memorial, Arlington Cemetery, and other sights in Washington, D.C. 
In addition, the winners will be eligible to compete to represent Arkansas on the National Rural Cooperative Association's (NRECA) Youth Leadership Council.  Arkansas' representative, selected by the tour directors, will attend NRECA's national meeting and participate in a variety of other cooperative activities throughout the year. They will also have a chance to win a $5,000 scholarship.
Each of Arkansas' 17 electric cooperatives select representatives for the Youth Tour, primarily through speech and essay contests.  Those winners will join approximately 1,500 youth from 38 states in Washington for the National Rural Electric Youth Tour.
Youth Tour Information
Southwest Arkansas Electric Cooperative selects outstanding high school juniors to attend Youth Tour, an all-expenses-paid educational trip to Washington, D.C., during June of each year. Students selected to participate will have an opportunity to earn a $5,000 scholarship. 
During the tour, the chaperoned group will visit historic sites such as Mount Vernon, the Smithsonian Institution, Arlington National Cemetery, the Lincoln Memorial, the United States Holocaust Memorial Museum and the U.S. Capitol. Your Tour delegates will also visit with members of the Arkansas Congressional delegation.
SWAECC makes its sponsorship selection based on the student's submission of a 500-word essay on a specific topic relating to Electric Energy.
Selection Criteria
Be a current high school junior;
Have a parent, grandparent or guardian who is a member of Southwest Arkansas Electric Cooperative (include the member's name and account number with your submission); 
Be acknowledged as a good student and submit an up-to-date transcript of courses taken in high school; 
Submit letters of recommendation from the high school principal and counselor (or favorite teacher) explaining why the student will make an exemplary Youth Tour participant.
All qualified students are encouraged to enter the essay contest.
Applications and information about this year's topic will be available February 1.
Adelene Westfall
2023 Winner
Adelene Westfall of Nashville High School and daughter of Jeffery and Amy Westfall was selected as one of two winners of an essay-writing contest on the topic of the "Why it isn't Always Feasible to Replace Fossil Fuel Power Generation with Renewable Energy Power Generation."
Cameron Gordon
2023 Winner
Cameron Gordon of Genoa Central High School and granddaughter of Jimmy and Linda Gordon, was selected as one of two winners of an essay-writing contest on the topic of the "Why it isn't Always Feasible to Replace Fossil Fuel Power Generation with Renewable Energy Power Generation."